Dear students and families,
What an amazing "Eduction Week" of learning we have had!  Enjoy this video with some of this week's events:
Education Week highlights:
Students enjoyed reading with a partner on Monday and math-themed games with care partners on Tuesday.
Students were excited to do good deeds around the school on "helping hand" Wednesday.  As a class we brainstormed kind acts we could do at school and students wrote the acts of kindness they did on our class helping hand.  Many students continued this activity to the end of the week!  Thank you everyone for your ongoing thoughtfulness!
On Thursday, students enjoyed various teachers rotating through class to read stories.
Friday, we joined the school with a walk through the grassland and were able to do some science at the same time – we stopped to talk about deer beds, sunscreen on aspen poplar trees and rose hips full of vitamin C.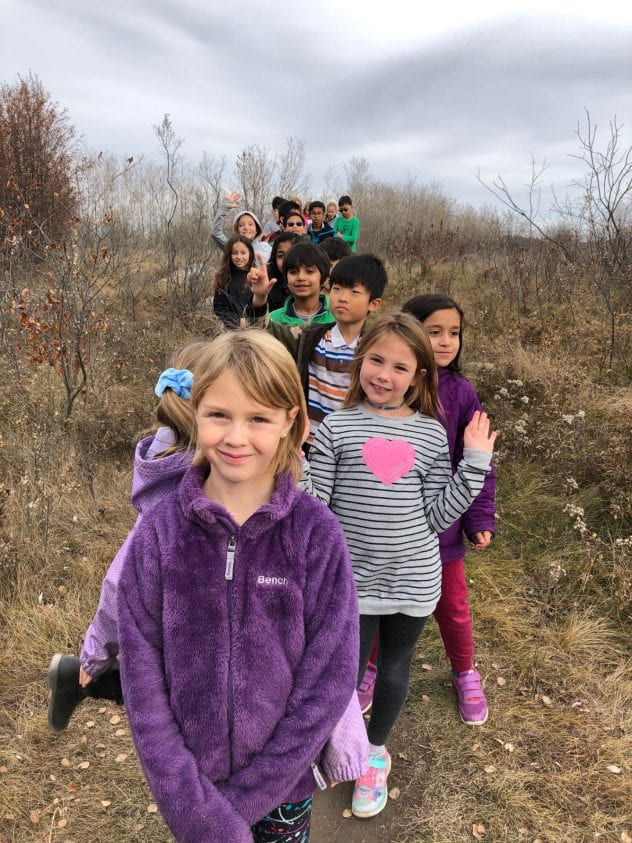 Math Update
During math class, we are making sense of our number system.  Topics include:
digits and numbers
patterns
place value – the value of a digit changes depending where its place is in a number.  Example:  293 "What is the value of the 9 in this number?" – ninety or 9 tens
decimal system (base 10)
hundreds, tens and ones (HTO) places; the "thousand" house, the "million" house
representing the value of a number with base 10 blocks
reading a number
numerals, words, standard form and expanded form (see chart below)

| | | |
| --- | --- | --- |
| | standard form | expanded form |
| numeral | 197 | 100 + 90 + 7 |
| word | one hundred ninety-seven | one hundred + ninety + seven |
Math Facts and Number Talks
We are on the last few weeks of addition math facts and will encourage one more addition strategy – adding up in chunks.
Mental math addition strategies taught and practiced in class:

making 10s
landmark/friendly numbers
doubles/near doubles
adding up in chunks
Students will have an opportunity to show their knowledge and application of mental addition strategies by completing a number talk journal page at the end of this week or the beginning of the following.
We will shift our focus to subtraction next.  Subtraction is traditionally the most difficult operation.  Students will receive home subtraction practice books that correspond with daily subtraction class math facts quizzes.  Stay tuned for more information next week!  🙂
Halloween
To say that students are very excited about Halloween may be a bit of an understatement.  We will continue with Halloween discussions up to the date and include "trick-or-treating" safety as one of our topics.
Here is a brief outline of what students can expect about Halloween on Thursday, October 31 at school:
Costumes
Students may wear costumes during class time on Thursday, October 31.  Most of the class said they needed their parents' help to put on their costumes.  Students in our class are welcome to wear costumes all day or just in the afternoon.
Costumes sometimes are different at school than when trick-or-treating:  a)  School dictates that costumes are not bloody or gory (so not scary to younger students and so staff do not mistake the costume for a medical emergency).  b)  Costumes may not include real or fake weapons of any kind.  c)  Costumes should continue to make sure that students are tastefully covered.  d)  Students need to be able to take part in phys. ed. and all other class activities while wearing their costumes.
Masks need to make sure the wearer has good vision (safety issue).  Students must be extra aware when a staff member tries to get their attention and students need to show their face/remove their mask when asked to by a staff member.
If a costume or any part of a costume causes a problem in class (distraction, blocking the view of another or safety issue, inability to do class tasks), the student must remove the costume or part of costume.
Activities in our class Thursday (Oct. 31)
As usual, our class activities are academic.  However, in light of this day of excitement, we will make use of the seasonal theme. 😆
Snacks are politely declined; students will most likely have more than enough snacks when they are trick-or-treating. 😀  As well, our class has decided that all snack sharing this year will only be on 2 specific days – one in January/February and the other in June.
Candy after Halloween
I do not expect to hear the rustle of candy wrappers in the classroom.
It is our practice to ask students to not eat candy and sugary treats in our classroom.
A reminder that we have 3 students in our classroom with life-threatening peanut and nut allergies – please do not bring treats that contain peanuts or any kind of nuts to school.
Students, if you bring Halloween treats to school, please save them for a recess snack or a lunch dessert; please be sure the wrappers end up in the garbage; please consume some healthy food along with your Halloween treat.
If someone forgets and brings Halloween treats into the classroom/desk area, I will ask for the treats and dispose of them.
Thanks in advance!  🙂
Spelling this Week
Some students are still completing corrections and work from lessons 1-3.  For those of you who took corrections from lessons 1-3 home, please complete and return on Monday. 
Remember:  What goes home needs to come back the next day.
   🙂 
This week's lesson 4 assignments are due Thursday with tests on Thursday also.
Students will have class time on Tuesday to complete this week's spelling assignments.
Here is a spelling preview for those of you who like to prepare early!
Here's a look at week  9. . .
Monday
A9 (A = addition, 9 = the ninth time we have done this!) math facts
phys. ed. with Ms Fehr (a.m.)
Tuesday
A10 math facts
introduction to lesson 4 spelling words and time to work on spelling lesson 4 today
Ms B. away p.m. – Mrs. Spence here
music with Mrs. Beaudry p.m.
Wednesday
A11 math fact quiz
Boston Pizza hot lunch for those who pre-ordered
time to work on spelling assignment in class
Thursday
Halloween – may wear costumes today
A12 math fact quiz
lesson 4 spelling tests and this week's spelling assignments due
phys. ed. with Mr. MacIntosh p.m.
marble rewards p.m.?
Friday
PJ day – may wear PJs to school (no stuffies, please)
A13 math fact quiz
phys. ed. with Mr. MacIntosh a.m.
What are you looking forward to this week at school?

October 28 Week at a Peek