Dear students and families,
Welcome to December and the last three weeks of the 2018 part of the school year.  We have much planned and I am looking forward to an exciting finish to this year!  We continue to focus on fostering greater student independence, responsibility and decision-making about procedures, assignments, using strategies and asking for help as we move forward through December.  At this busy time, do check the "Upcoming Events" sticky post found at the top of the home page – I update it weekly.
Items to Bring to School
We are collecting a few items over the next few weeks.  Please bring the following items to the classroom if you can:
any pasta except elbow macaroni (due Dec. 10)
"treasures" (gently used garage sale type items) to give to the Voyageur Treasure Sale on Dec. 13 (see note attached to parent email for more information)
gently used books for book swap at the Carnaval
Computers and Keyboarding Skills
We have used the computers twice this school year.  I have observed that the students are very unsure about where the characters are on the computer keyboard.  Therefore, we will spend some class time introducing and developing keyboarding skills.
This past week, grade 3 students were introduced to the keyboard home row through an online program called "Dance Mat."  Links to Dance Mat lessons can be found in the right side bar of this blog.  We will revisit "Dance Mat Level 1, Stage 1 (home row)" with the entire class this week.  Students would benefit from practicing and repeating the lesson again at home throughout the week, if possible.
Math Facts and Number Talks
We will finish our intense work with subtraction math facts on Tuesday and start multiplication math facts on Wednesday.
For multiplication and division math facts, grade 3 and 4 will have different assignments;

buff multiplication practice book 1 goes home with grade 4

and white multiplication practice book 1 goes home with grade 3 on Tuesday; grade 4 will have a weekly whiz quiz and grade 3 will have a whiz quiz every second week.
The practice books include explanations for parents on the first few pages (multiplication vocabulary and arrays as tools).  As well,  on the back few pages are explanations of some number talk strategies that will be encouraged in class.
There are 2 student practice pages for each in class quiz and an answer key at the back.
I recommend 2-10 minutes of practice/review of math facts in a way that suits each child's learning style.  Timers are effective only when students have a strong understanding of the math facts and want to push to improve their recall speed.
Guideline target speeds for grade 4 are 40 facts in 2 minutes with 30 facts in 2 minutes for grade 3.
Grade 3 will work on 1 math fact for 2 weeks (example 2 x) and only up to 5 x
Grade 4 will work on 1 math fact for 1 week (example 2 x) up to 9 x
We will all begin with 0 x this week.
See weekly blog posts and information in student planners for daily math fact practice schedules.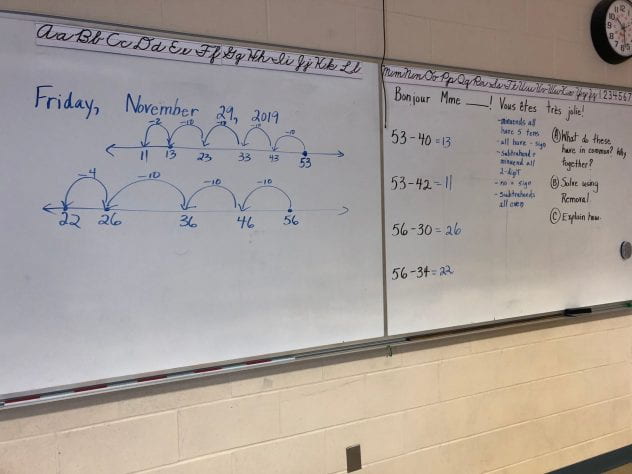 During our daily number talks, we will leave subtraction for now and move the students to use more efficient multiplication strategies.  We will begin with word problems, repeated addition and skip counting.  Students are already quite familiar with skip counting action songs that can help them as we introduce multiplication.
Math Class Update
Both grade 3 and grade 4 are in the middle of our paper and pencil work with addition and subtraction and plan to complete this unit before the end of December.
Spelling this Week
Spelling tests are on Thursday with assignments due on Thursday as well.
Here are this week's lists for those of you who like to prepare early:
Here's a look at week 14 . . .
Monday
S13 math fact quiz (please practice the night before)
phys. ed. with Ms Fehr a.m.
Tuesday
comprehensive subtraction math fact quiz (-0 to -10); no practice sheet, review on your own
library a.m.
music with Mrs. Beaudry p.m.
grade 3 (white) and grade 4 (buff) multiplication practice books home today
Wednesday
M1 (grade 4)

, 3-M1 (grade 3) multiplication math fact quiz (please practice the night before)
arts ed. with Mrs. Sansom p.m.
Thursday
M2

, 3-M2 math fact quiz (please practice the night before)
spelling assignments due and tests
12 days of "Fit-mas" begins – extra exercising throughout the day
computers a.m. (home row keyboarding)
phys. ed. with Mr. MacIntosh p.m.
marble rewards?
Friday
M3

, 3-M3 math fact quiz (please practice the night before)
phys. ed. with Mr. MacIntosh a.m.
What are you looking forward to at school this week?

December 2 Week at a Peek